In 2002, Cupid Intimates launched Naomi & Nicole shapewear brand. Their goal is to recreate the way we view shapewear, by making it more comfortable, seam lined and functional.
Unlike previous shapewear product lines, Naomi & Nicole has designed their undergarments to provide light to firm control. But what makes their shapewear unique is the ability to use a variety of different compression levels in the same garment, without it becoming cumbersome.
Naomi & Nicole shapewear quickly gained popularity and within 5 years, they were being sold throughout all of USA and Canada. Since 2010, it is sold around the globe and has quite a social media presence due to the fact it actually feels comfortable on and conceals all of your lumps and bumps. You can find them on Twitter and see some of the rave reviews: @naomiandnicole
Women worldwide have praised their innovative design for the ability contouring the entire body, without creating new unwanted bulges. One of the main reasons for Naomi & Nicole's successful shapewear brand is due to the fact that all of their designs are made with premium quality materials and seam lined design that sits like a second skin on your body.
Naomi & Nicole Shapewear
Naomi & Nicole have been voted one of the most comfortable panty year after year because no matter what you are doing, it will not ride up, cause wedgies or give you visible panty lines. The same quality you have come to love for their perfect panties, you can find in their premium quality shapewear.
Here are some of Naomi & Nicole's most popular shapewear styles and what makes them so unique.
Shapes Your Curves Hi-Waist Brief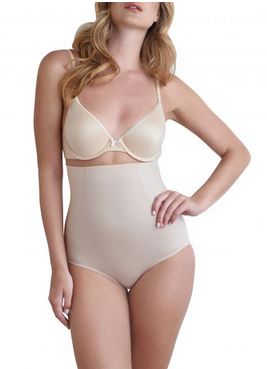 Finally a high-waisted brief that is comfortable enough to wear everyday but still giving you the control you need to feel your best throughout the day. Its' innovative design has curved seams in the front and back for added shape, plus it moves with your body, so you don't feel restricted. It is suitable for wearing under all types of clothing, even clingy fabrics.
No restrictive, heavy-weight double panels
Smoothes out even the most stubborn tummy pooch and muffin top
Design prevents riding up or rolling down, guaranteed to stay in place
No visible panty lines
Shape Your Curves Low Back Bodysuit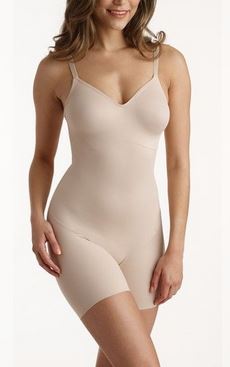 Be astounded by the high quality of this all-in-one shapewear bodysuit, as it contours your body and erases all of your flaws. Using the Black Magic innovative design to flatten target areas such as tummy, abdomen, rear, hips, thighs and back. Comes with a built-in bra shelf for added support. Its' unique design eliminates that ugly back bulge that often appears under your bra. If you are looking for smooth compression for your entire torso, then look no further.
Comes with comfortable, adjustable straps
Comes with an easy to use open-and-close gusset
Built-in bra with your actual cup size for added support
Innovative design prevents unwanted roll downs or ride ups
A Little Lace a Lot of Shape Hi-Waist Thigh Slimmer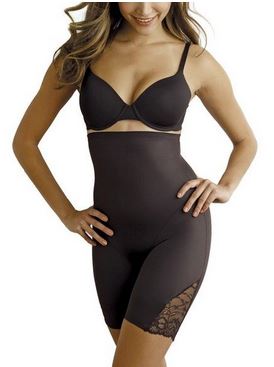 The sexier side of shapewear! There is no need to sacrifice fashion for the sake of functionality. You will want to actually show off this sexy shapewear and the lacey inserts on the side of the leg. Even though it feels like a lightweight compression, it packs a firm compression, giving you maximum control on your torso, thighs and rear. If you want to look slimmer and eliminate any muffin top, then this is for you.
Firm compression, but lightweight fabric makes it comfortable for everyday use
Sexy lace inserts on the leg that you will actually want to show off
Conventional waistband that will not ride up or roll down
Suitable to wear under all types of fabrics and shows no visible panty lines even under the clingiest material
Website: cupidintimates.com/naomi-nicole