Founded in 1949 by Koichi Tsukamoto, with the goal of creating beautiful high-quality intimate wear for women around the globe. He built a team of passionate designers, researchers and merchants to create the brand that has millions of loyal customers today. They have been designing exceptional intimate apparel ever since.
In 1985, they officially launched their brand in America. Becoming one of the most respected and appraised lingerie brands in the USA for superior fit and craftsmanship.
Wacoal's main focus is delivering to you high-quality shapewear that fits just right. That is why they offer their Wacoal bras in a variety of sizes and cups sizes from A to I. Wacoal's designs show that intimate apparel can be sexy and trendy without the need of compromising comfort. In 2005, Wacoal was named the best-selling bra in America.
In 1999, Wacoal launched one of their best-selling bras called the Awareness Bra, which has a small pink ribbon on the band of the bra. The pink ribbon is placed strategically to remind women to take care of their breast health. As of today's date, Wacoal has donated more than $4.7 million to Susan G. Komen to help find a cure for breast cancer.
All of Wacoal's products are manufactured and hand stitched using a Japanese sewing technique that guarantees overall comfort and quality. They might specialize in bras but all of their products are premium quality such as the full-figure intimate wear line, panties, swimwear, lingerie and shapewear.
Wacoal has always been dedicated in helping women find the best fit. Wacoal was one of the first intimate apparel brands to hire a team of trained consultants to hep women find the right-sized bra. Wacoal is dedicated in helping all types of women look and feel beautiful.
Wacoal shapewear
In recent years Wacoal shapewear has been gaining popularity as one of the top 10 shapewear brands in America for fit, comfort and quality. Their body-slimming shapewear has gained quite a following among the full-figured community.
Wacoal's bodywear collection includes fitted camisoles, bodysuits, briefs, leg shapers and thigh shapers. Their shapewear has been carefully designed to enhance your best assets and curves by smoothing your silhouette.
Wacoal's designers recognize that shapewear should sit on your body as a second skin, concealing any imperfection that might make you feel insecure and unconfident. The motto at Wacoal is "Be body beautiful at any age!" All of their shapewear products have taken into careful consideration how age changes our body.
Here are three of Wacoal's top shapewear sellers
Wacoal Women's Zoned 4 Shape Long Leg Shaper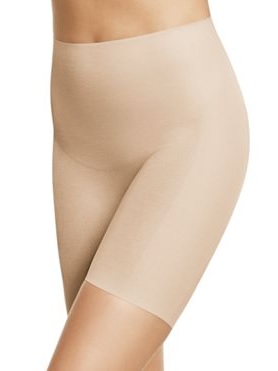 The Wacoal Leg Shaper is one of their best selling shapewear products and for a good reason. Once you slip it on you can feel the how it has been specifically designed and engineered to smooth and give your tummy the tuck it needs to smooth out. At the same time, you notice how toned and smooth your thighs, hips and derriere look.
Gives you a slimmer, longer leg
Provides a powerful, graduated compression using four different weights of compression fabric
Designed to slim target areas such as you thighs, tummy, hips, legs and derriere.
Seamless hemline on the waist and leg
Beyond Naked Camisole
If you are looking for all-over tummy smoothing control, then you are going to love this camisole. This one-of-king body slimming camisole has been engineered using innovative two-stretch shaping fabric that will eliminate back and tummy rolls. Another feature is the bottom hem is designed with an elastic silicone hem so you can be assured it will not ride up during the day.
Comes with a removable built-in bra
Non-adjustable camisole straps guarantee zero slippage
Scalloped, V-neck with a clean edge that
Option of ordering a matching panty to complete the look
Try a Little Slenderness Bodysuit
All-in-one seamless bodysuit will not only slim your entire torso but the hidden underwire bra will give you a little added lift to feel more secure and confidant. If you are looking for the ideal foundation for your clothes that will control, smooth and sculpt your body then this is the only bodysuit you will need.
Seamless bodysuit with a hidden built-in underwire bra
Provides extra internal support for smoothing back, tummy and hips
Comes with adjustable straps
Made from lightweight fabric, giving medium to moderate compression
Wacoal has a proven history of providing women with high quality products that last years, so why should we expect less from their shapewear products. You might have to pay premium prices for their intimate wear but you will be able to wear from for years.
Wacoal: www.wacoal.com