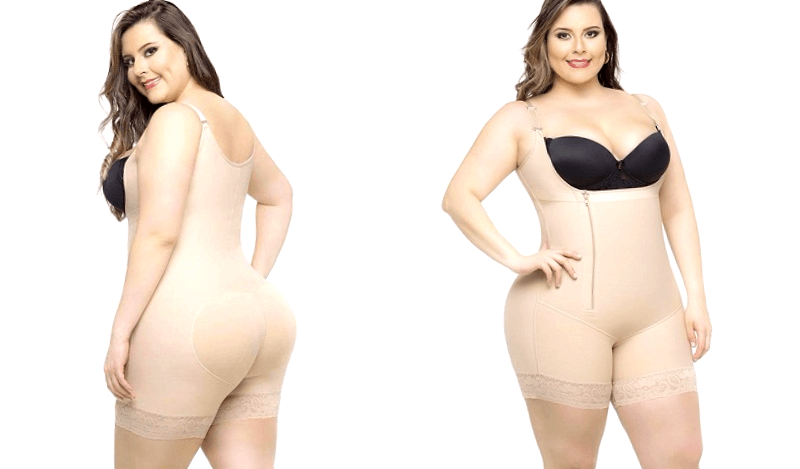 Many plus size women wore shapewear for the first time because it was forced on them. After what was most likely a horrible selection process, they were forced into a tight girdle and hated every second of it. If this was your experience, then the thought of wearing any sort of body shaper might still scare you.
The truth is, shapewear can be as comfortable as you need them to be while providing all the right results. It's always a great idea to have a few good body shapers in your closet. Often times, you slip into an outfit that looks great, except for one area that needs an extra tuck, or lifts. This is where they come in handy.
Shapewear isn't worn to hide your curves. It's to give you the freedom to choose what features you want to highlight, and which ones you prefer to downplay. This way, you don't ever have to feel like there are some outfits you can't pull off.
Important Tips to Consider When Buying plus size Shapewear
Finding the right shapewear for you goes beyond buying something that 'works for a friend'. All of its features should be able to support your individual need.
Here are the things to look out for:
1. Size charts
Always buy the right size. Buying a smaller size won't make you appear slimmer, and you don't need to. A smaller size will only make it seem like your midsection was stuffed in a tight wrap, which is something no woman wants. A shapewear in your size will give you the results you want, without compromising your comfort.
2. Materials used
Most shapewear is designed using different materials for different body areas, so you need to confirm that they're a good fit for you. The material must be resistant to give you that compression you need, but also breathable. It should also be easy to maintain. If you choose to buy shapewear made with delicate materials, be sure that you will have the patience to handle it as needed.
3. Variation in compression
The compression level of your shapewear is dependent on what you need. With medium level compression, you should expect a firm hold to smoothen out the bumps and bulges. With high-level compression, the shapewear hugs the body tight to provide a slimmer appearance. Your comfort should be the top priority, so choose a compression level that you feel safe to wear all day.
4. Variation in design
Design for shapewear goes beyond how it looks. Although they might all seem the same, there are variations to the type of support they provide. For example, some body shapers are designed to compress the midsection, but flair out the hips in a flattering way. Some others are designed to give the thighs a toned effect while giving the butt a quick lift. Any shapewear you choose should highlight the right features for you.
Identify your Strengths and Enhance them
We all have a favorite part of our body that we love to highlight. There are also parts we prefer to downplay. Here's how shapewear can help you enhance your flattering features:
1. Tummy pooch
Are you trying to smoothen out your love handles and muffin tops? Your preferred shapewear should provide full torso coverage to give a smooth appearance. Buy a seamless piece that won't dig into your skin, or poke through your outfit. Some recommended options are compression tank tops and high-waist panties and boy shorts.
2. Waistline
For waistline support, high-waist is always the way to go. Your option should provide support for your waistline, with firm compression that loosens up around the hips region. Remember that you want to highlight your curves, not subdue them.
3. Hips
Feeling your skin jiggle under your dress can get uncomfortable, especially if you're trying to let go and have some fun. Shapewear for the hips such as shaper shorts is designed to give the firm hold that you need. With these garments, you can flaunt your curves while feeling confident to move around as much as you want.
4. Buttocks
Do you want a firm lift, a smoother appearance, or both? Butt lifting and enhancing shapewear will give you a fuller and toned look. Most of them support other features, so you can find 3-in-1 shapewear options that offer torso compression, hip support, and butt enhancement.
5. Thighs
Tired of seeing annoying little dimples pop up every time you pull a dress down your thighs? Shapewear for thighs such as shaper shorts and thigh slimmers can fix that. They provide compression control to smooth out dimples and give your thighs a smooth appearance.
Although I've talked about each body part separately, most of the shapewear options sold will offer support for more than one region. With the right shapewear, you should feel comfortable to explore your style and try out new, daring looks.
Curious about other benefits of shapewear? Browse our website for more information.