Revel Beauty is a new beauty brand specializing in skin care products. The secret of their products… adaptogens. Adaptogens are a class of herbs and plants that are thought to help the body adapt to stress and provide a sense of balance and calm. Examples of adaptogens include ashwagandha, Turmeric root, Red ginseng, and reishi mushroom.
Revel Beauty currently offers 5 products that cover all the needs of a woman looking to take care of her skin and face.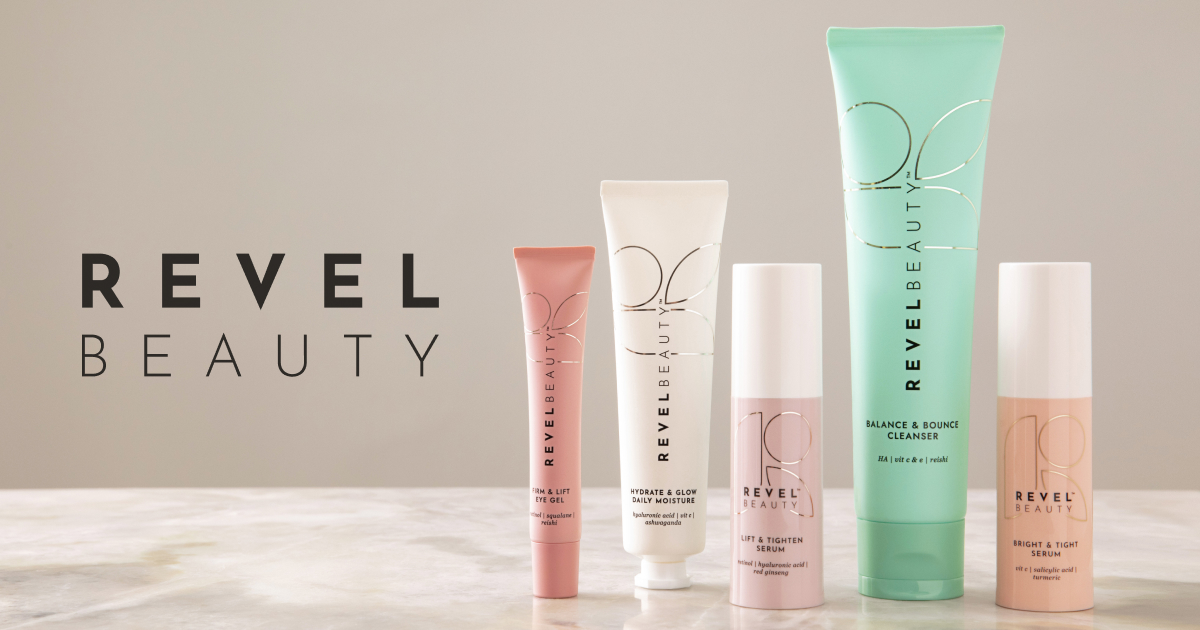 Lift and Tighten Serum: the perfect way to restore your skin's youthful glow. Revel Beauty's unique formula is rich in powerful antioxidants and vitamins to help reduce the appearance of wrinkles and fine lines, while providing long-lasting hydration and nourishment to your skin. The serum uses retinol to restore the look of skin's elasticity and smooth the appearance of your skin's texture. It combines it with Red Ginseng extract, which promotes radiant-looking skin, and Hyaluronic acid, which plumps and revitalizes the look of thinning skin.
Firm and Lift Eye Gel: is an anti-aging, anti-aging eye cream that helps to reduce the appearance of wrinkles and fine lines while providing an immediate lifting and firming effect. This Revel Beauty eye gel is also packed with antioxidants and natural extracts that help to reduce the appearance of puffiness and dark circles for a brighter and more youthful appearance. Its lightweight, non-greasy formula is easily absorbed and won't leave a sticky residue.
Bright and Tight Serum: is a powerful blend of nourishing and age-fighting ingredients that will help you achieve a brighter, tighter and more youthful complexion. Their Bright & Tight Serum is designed to help fight the appearance of aging and brighten skin tone. This serum is formulated with natural and organic ingredients such as Vitamin C, Turmeric root extract and Salicylic acid. Aloe vera helps to soothe and hydrate skin while green tea helps to minimize the appearance of wrinkles and fine lines. Vitamin C helps to even out skin tone, lighten dark spots and brighten the complexion, while Turmeric. it's an ideal adaptogen complement to enhance the skin's overall look.
Hydrate & Glow Daily Moisture: this daily moisturizer will provide your skin with the hydration, nutrients, and protection it needs for a healthy, vibrant complexion. Our Hydrate & Glow Daily Moisture is a lightweight, fast-absorbing formula that will leave your skin feeling soft, smooth, and refreshed. This moisturizer contains a blend of natural and organic ingredients, including Ashwagandha extract, Vitamin E, Apricot Kernel Oil, Jojoba Oil, and Niacinamide. These ingredients work together to help keep your skin hydrated and brightened.
Balance & Bounce Cleanser: gently cleanse and clarify your skin with Balance & Bounce Cleanser. This lightweight and non-stripping cleanser is formulated with natural ingredients that work together to balance the skin's pH and help restore moisture. The creamy texture helps to gently remove impurities and excess oils, leaving your skin feeling clean, refreshed and hydrated.
Revel Beauty Results: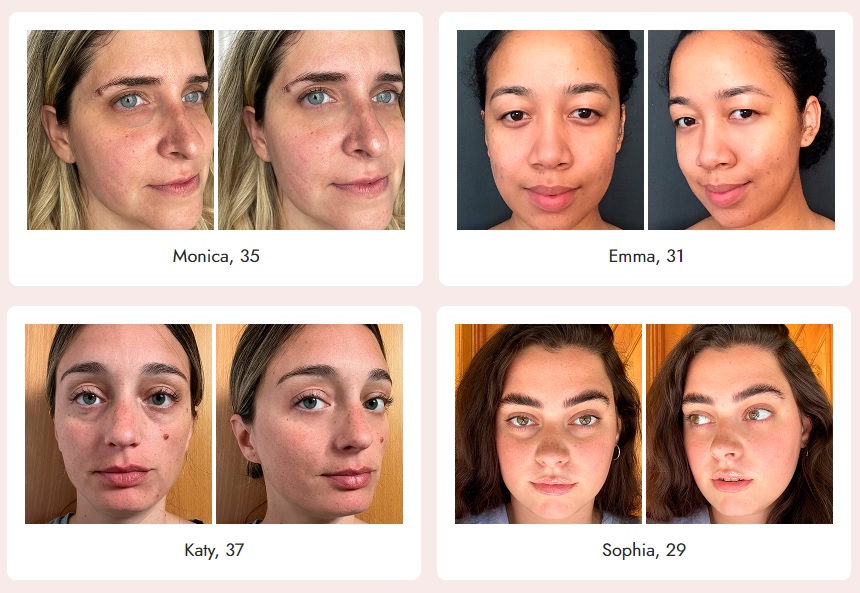 Revel Beauty supports every age and stage on your skin journey, with bio-adaptative super skincare that restores, protects, and rediates your inner and outer wellness. The brand arrived here to guide you and remind you to seek joy in your body in this moment. You are having the time of your life.
Why choose Revel Beauty?
Their products are formulated with natural and organic ingredients that are known to reduce the appearance of wrinkles, even out skin tone, brighten the complexion, and provide long-lasting hydration. With Revel Beauty, you can trust that you are getting an affordable high-quality skin care product that will help you achieve the results you want.
For what ages are Revel Beauty products recommended?
Revel Beauty products are suitable for all ages. While their products are designed to target the signs of aging, they are beneficial for all skin types. The natural and organic ingredients contained in their products are beneficial for skin health and provide nourishment regardless of age.
If you need to contact Revel Beauty, the company also has a help center where customers can ask questions or contact their support team. You can contact them by chat, messenger, e-mail and telephone.