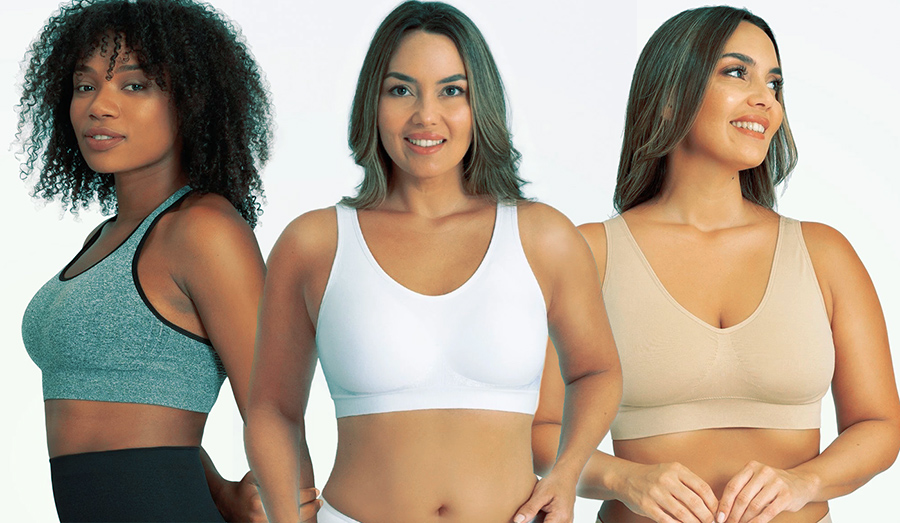 Cute, trendy, comfortable bras that are actually supportive? Sign me up, please!
During the last few years, wireless bralettes and sports bras have practically capsized the lingerie market. However, many styles are only suitable for small busts and are lacking in support for the well-endowed.
Truekind has created a collection of sensual and comfortable wireless bras for all cup sizes. Contrary to popular beliefs, the support comes from the under-band and not the straps or underwire. They have created perfect-fitting wireless bras that are suitable for all cup sizes and shapes without compromising on support and comfort.
If you hate underwires poking at your ribs, then you are going to love how the wireless bra makes you look polished and put-together without feeling as if you are squeezed into an uncomfortable cage.
Benefits of Wearing a Wireless Bra
Underwire bras have taken great strides in the last few years on providing support for the larger bust, especially while doing impact exercises. Truekind wirefree bras don't just keep your girls looking perky, there are a few health benefits too!
COMFORT
Most of us find underwire bras incredibly uncomfortable. Every woman has a unique curvature to her breasts, meaning underwire comfort will vary from woman to woman. Even if you finally discover that one underwire bra that feels comfortable, once you wash it, it will be a whole new story, as the underwire can shift in the wash. With a Truekind everyday essential bra, all of these discomforts will be a thing of the past.
FULL SUPPORT
No matter what our cup size is, we all need support, the larger the bust the more support required. One of the main reasons why wireless bras have a bad reputation is because they have thin straps and under-band. All of Truekind bras have a thick non-slip band and straps with sufficient back coverage to provide the support your ladies need without underwires.
IMPROVES CIRCULATION
Your body has more than 500 lymph nodes, the majority of them are located around your upper body. Your lymph nodes are responsible for flushing out harmful toxins that may cause cancer. If you are wearing constrictive clothing or undergarments for long periods of time, it could cause these toxins to becomes trapped in your breasts causing a future health risk.
POSTURE
Truekind bras don't only provide vital support for your bust but also help improve your posture. This helps reduce weight strain and back pain for women who are well-endowed. They have carefully designed each of their bras so you have adequate support by using the right straps, back and front coverage and under-band.
Do Wireless Bras Cause Your Breasts to Sag?
No, wireless bras do not make your breasts sag. For example, the Truekind wirefree bra is specifically designed to provide your ladies with adequate support to stay perky. Avoid wireless bras that are unlined, as they provide minimal support. Look for bras that have wide bands and straps and sufficient back coverage.
How Should My Truekind Wirefree Bra Fit?
Besides strictly following the sizing chart when you decide to purchase your bra, here are a few things to consider about the fit:
The under-band should sit flat and firmly under your breasts
The back of the band should be snug but not tight
The straps should be wide with a non-slip surface
Lean forward in front of the mirror, your breasts should not slide out. If they are coming out of the bra, then you need a larger size or if there is too much space then you need a smaller size.
How Often Should I Replace My Bra?
Ideally, you should replace your bras every six months to a year. The more frequently you wear your bra, the sooner you will need to replace it, as the materially naturally begins to loosen up between washes. If you notice that the band is loose even on the tightest setting on your hook and eye closure, then it is time to get a new Truekind shaper bra.
Best-selling Truekind Bras
Truekind Everyday Essential Throw-on Wireless bra
The Truekind Everyday Essential bra is the Roll-Royce of wireless bras available on the market. The full-coverage bra provides great lift with the underwire, making it an excellent option for full busts. Fits cup sizes from 32A to 46DD. Plus it comes in four colors: black, white, brown and pink. One Truekind review stated that it is the most comfortable bra EVER!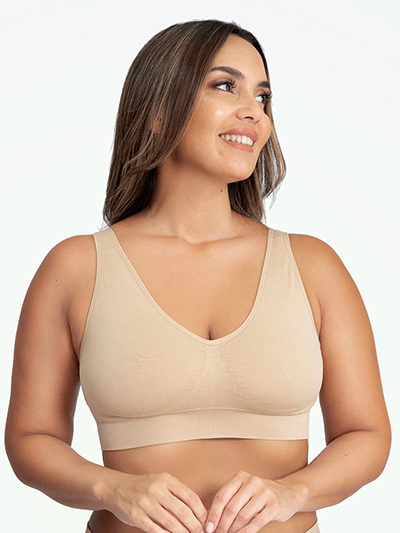 Truekind Reactive Sport bra
Reviewers call this the most comfortable wirefree sports bra online due to the technology of the fabrication and premium construction. The comfortable, flexible fit with moisture-wicking fabric is ideal for low to high impact workouts. One shopper said, "I never imagined feeling confident enough to wear a wireless bra outside, until I tried Truekind's bras. I am never going back to my underwire bra again!"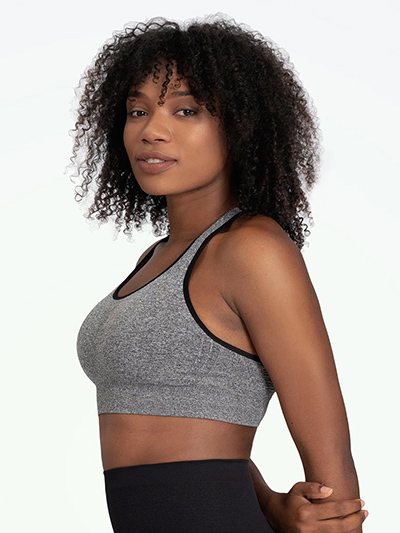 Truekind Daily Comfort Wirefree Shaper bra
The Truekind Daily Comfort Wirefree Shaper bra is a surprisingly very supportive seamless option with a hook and eye closure in the back. It has nice, wide straps with full coverage in the back and front for extra support. One shopper stated that she loves her bra so much. It perfectly fits her 40H chest and she feels confident that her chest won't fly out while running down the subway steps or chasing the bus.