Store website: www.vedettestore.com
Vedette, was founded in 1979 in Columbia, South America with the sole purpose of creating an intricate and elegant body corselet that would make every woman feel beautiful and more self-confident.
Within a few years of founding Vedette shapewear, it quickly gained popularity throughout Central and South America. In less than ten years, they began to dominate the North American market by focusing first on the migrating Hispanic community. Once they transformed themselves into the body-shaping leader in the U.S. they moved their headquarters to Atlanta, Georgia.
Vedette understands a woman's anatomy perfectly and they show their expertise in making functional but exquisitely sexy shapewear that you will actually want to show off. All of their shapewear products are designed and manufactured in Columbia by experts, to ensure that their customers are getting only the best quality products.
What do They Offer?
One of the reasons for Vedette's success is due to the fact that they know how to use a wide variety of materials such as Lycra, cotton, nylon, spandex and metal rods to create the shapewear that accentuates your every curve.
The Vedette waist trainer and corsets come with an easy-to-use, completely invisible innovative hook-and-eye closure. Its patented design is the envy of all other shapewear brands. Plus they have an extensive line of athletic leggings and slimming swimsuits and two-pieces that give you all over control.
Here is a list of some of their body-shaping products they offer:
High performance leggings that sculpt your thighs, tummy and backside with fun sporty designs
Vintage styled shaping swimwear that flatters your every curve
Maternity shapewear and post-partum shapewear that will let you show off your body
Sexy full body shapers, bodysuits and tummy-tucking that are actually comfortable panties
We love that you can scroll their website not only by choosing the style department but also by searching through your problem areas such as waist and tummy, buttocks, hips and thighs. If that's not enough, you can always search for the level of compression or design style.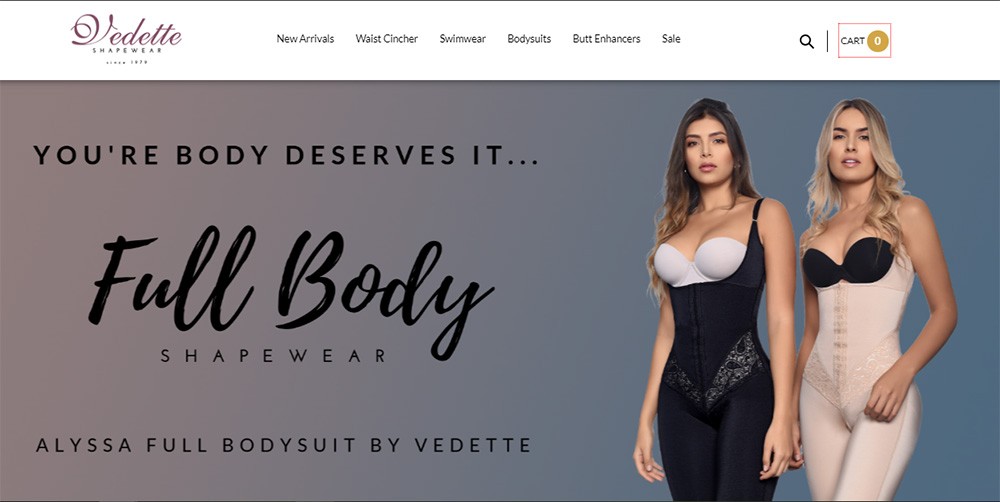 Best Products
One of the most popular items is their all-in-one bra and shapewear that gives your breast a perk boost. Their bras give you back support, instantly improving your posture and eliminate that ugly back bulge.
Another one of their top sellers is the Vedette waist trainer that comes with their revolutionary hook-and-eye closure. Clinch your waist with one of their many styles of body corselet that look very sexy on.
The absolute best seller is their boy short bodysuit that provides firm compression where you need it most. All of the shaping control you have only dreamed about but with a sexy lacy design that your partner will love to take off.
Target Audience
Vedette Shapewear caters to every woman and perfectly fulfilling their every desire, whether they are looking for a simple body shaper or something a little more intricate. Offering a wide variety of style of shapewear such as pieces that target a specific troublesome area or styles more suited for a special occasion.
With more than 30 years in the shapewear business, they understand what women's shaping needs are. Giving them an edge amongst other shapewear manufacturers because they design some of the most versatile shapewear available today.
Women love their all-in-one bra and shapewear because it doesn't look like traditional shapewear but more like sexy lingerie. Also they make an assortment of undergarments and shapewear for men.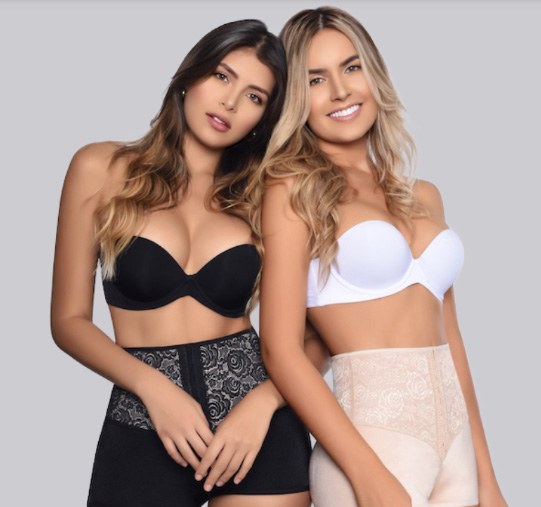 Size Chart
At Vedette they understand how difficult it is to find the ideal size shapewear, so they have taken the pain out of shopping online. They have designed a size chart for all of their main products such as for bodysuits and waist cinchers, so you don't need to measure yourself each time you purchase a different item.
Vedette shapewear recommends that if you find yourself between two sizes, then you should always go up a size. IF you are still unsure about sizing, feel free to give them a call at their toll-free help line.