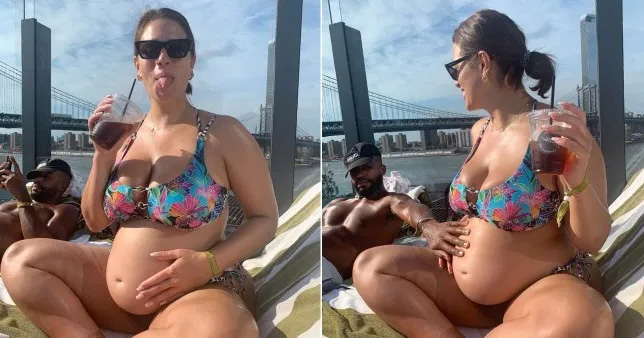 Ashley Graham has been revolutionary in changing the modeling industry and now she is helping women embrace their pregnant bodies.
The stunning, plus size model has been documenting her entire pregnancy on Instagram. Her fans went crazy when she posted a recent post of a close up of her body by going "au naturale" focusing on her stretch marks and cellulite.
Fans loved how relatable her recent post was, because it showcased the actual reality of pregnancy with all the stretch marks and cellulite. Most models Photoshop out those intimately candid moments that come with pregnancy and only focus on a small beautiful baby bump.
Graham's caption stated, "Same, same but a little different." Her bold post showed those body shaming trolls that she is proud of her body, despite it's transformation. Plus, her post received thousands of positive comments.
One comment said "Beautiful mama xo." Another expecting mother thanked Graham for posting such a candid picture saying, "My body looks EXACTLY like this. I'm not really proud of it, just saying that some of us don't have smooth skin or flat tummies like other women. We come in different shapes, sizes and colors, but we deserve to be loved and respected just like everybody else."
Many expecting mommies feel disappointed in themselves, as their bodies don't look like pictures of celebrities. But, thankfully, more and more celebrities are promoting body-positivity by showing off the reality of how their body really changes during and after pregnancy. This is helping women everywhere to accept the beautiful transformation their body makes while pregnant.
Graham admits that it is a challenge to embrace her growing body everyday. She considers it to be an emotional journey and she couldn't embark on this without having a supportive community behind her.
Graham is very vocal about promoting body positivity. But, she believes that accepting your body comes with treating it with respect and love. Even though she is pregnant, she has posted some videos or pictures of herself working out at the gym and choosing healthy meal choices.
In 2017 after being trolled for a picture that showed her cellulite on her thighs, she did not crawl into a corner and cry, but responded with the following post: "I workout. I do my best to eat well. I love my skin I'm in. And I'm not ashamed of a few lumps, bumps or cellulite. And you shouldn't be either."
Fans love how Graham isn't afraid to post her little pregnancy imperfections on social media. Her honesty is helping other mommies learn to accept and consider how beautiful their cellulite and stretch marks are too.
Graham has had her share of trolls on social media but she isn't going to let them or anyone make her or any woman feel ugly or worthless. She isn't willing to waste her time with reading or even considering their negativity. Instead, she prefers to concentrate on her assets that make her sexy. Who has time for body shaming or Internet trolls?
One thing for sure is that Ashley Graham is a beautiful example for all women.
That baby bump will soon be gone and a gorgeous and cuddly little baby will be in her arms. Who cares about stretch marks, then?