Shapewear has transformed itself from a special occasion accessory to a daily part of our everyday ensemble. The best plus size shapewear makes the prefect foundation for your clothes.
Fashion designers claim that shapewear has had a direct impact on how the fashion scene is becoming more inclusive.
The fashion industry is changing the way we see beauty, as they embrace curves and fuller figures. The new standard of beauty comes from inside out, and by not conforming to somebody else's beauty standards. The time is now to own whom you are! And show the world your curves.
But if you are like millions of other women and myself, who love fashion, we might not be ready to embrace our curves, even if we don't feel a hundred percent comfortable with our bodies. Thankfully, slimming body-wear can help smooth out our body complexes and insecurities. But what is the best shapewear for plus size girls?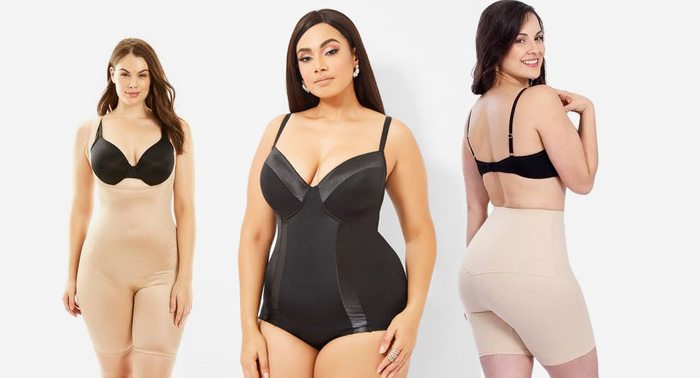 The Best Shapewear for Plus Size Girls
We have narrowed the list of what is the best shapewear for plus size according to dressing for certain occasions. Mostly because life is complicated enough and we plan our clothes according to the occasion and not the style of shapewear we want to wear.
Shapewear isn't just about accentuating our curves, but it also empowers us. It's like wearing stilettos, they don't just make your legs look better but they give us that little extra confidence in each step we take.
Plus we have taken into consideration what are some of the best plus size shapewear for tummy, thighs, hips and your backside.
Office
Most of us wear the same basics, daily to work, either a pencil skirt or a pair of dress trousers with, either a sweater, vest or blazer to finish off the look. Depending where you work, most of us need to avoid wearing deep plunging necklines or skirts that are too short.
Often when wearing trousers of skirts, our tummy tends to be the focal point. The best tummy shapewear for plus size is a hi-waist boy short that gives your body the ideal slimming foundation. The hi-waist boy short will give you an instant tummy tuck plus give your thighs and hips a more streamlined, slimmer look.
Casual
Nothing screams more casual than a pair of ballet flats, jeans and a T-shirt or if the weather is warmer, a pair capris with a white blouse. Even a spring skirt with sandals or boots might be suitable if you are looking for something more feminine.
Often, when we dress casual, the last thing we want to wear is something restrictive around our waist. But you might still need a little extra foundation around your midriff. For casual wear your best plus size shapewear would be a shaping camisole that will contour your back, tummy and keep that muffin top under control.
Special Occasions
Often special occasions depend on the party style. They require more formal attire. Often it is more advisable to go elegant than try some new style that you don't feel comfortable in. Special occasions mean clingy or sheer fabrics, shorter shirts, plunging necklines and bare shoulders.
For special occasions, the best shapewear for plus size should be a simple shaping bodysuit with or without straps, depending on your little ensemble. Some styles come with a built-in bra and others are meant to be worn with you own bra. Just make sure you get a bodysuit that matches your skin tone.
Date Night or Night Out with The Girls
Date night or a night out with the girls is about looking and feeling sexy, so often tight-fitting styles are a must-have. Think fabrics that cling to your curves, showing off your assets. But at the same time these fabrics are very unforgiving, often showing off a little more than you wish for such as those lumps and bumps.
What is the best shapewear for plus size girls while wearing these styles of fabrics? Since date night or a night out on the town requires deep necklines and shorter hemlines, your best choice would be a high-waist brief. It would give you the tummy tuck you need around for belly and more streamlined look around your entire midriff section and rear.