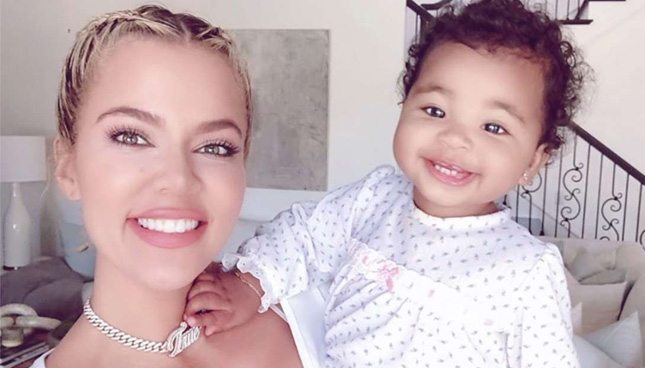 Nobody said being a mommy was easy!
When you become a mom, your life can change drastically even for celebrities such as Khloe Kardashian. The world renowned, reality star, entrepreneur and Good-American co-founder told us about her post-pregnancy beauty routine in a video for Vogue. She gets honest about how challenging it is to do her makeup with her little toddler running around.
In the video you can see her baby, True Thompson in the background, darting from one room to another. In the video Khloe admitted, "Since becoming a mom, this is what I do. I literally locked my bedroom door, so she can't get out, so she's kinda trapped." Then she can do her makeup while she is enclosed in the same room as herself.
The 35-year old mother explains that her daughter, True has free reign of the entire house, which requires Khloe constantly to be chasing her from one room to another. Maybe she hasn't heard about baby gates yet?
Khloe said in the video "I had to learn how to do makeup really quickly and not to do many wet things, cause then once it's wet and I have to run after her, it's gonna set really weird and then I'm gonna look super blotchy."
The reality star recognizes that skincare has always been a priority to her but it is even more so after giving birth. She found that post-pregnancy, your body is depleted of hydration and sleep-deprived, plus you don't have the time to pamper your skin as you did before. So fine lines, wrinkles and red-puffy spots start to appear.
In her video for Vogue, Khloe explains how she tries to get True involved in helping her apply her makeup. "She loves to hand me brushes, she eats my sponges." Plus she told the world that baby True loves pink Q-tips.
Khloe has not hidden that fact she loves her adorable daughter. The entrepreneur's Instagram page has dozens of cute pictures of Khloe and True. Mostly, fans have had only said positive things about Khloe's relationship with her daughter. But recently she has received some online shamming for spoiling her daughter after she posted a picture of a baby-sized Bentley that she gave True.
Khloe did not lower herself to the online shamming and responded quite eloquently on her Instragram post: "I'm able to look myself in the mirror and sleep well at night. I'm able to do that because I know I'm a good person, and life is all about balance. Yes I do choose to spoil my daughter. I want to spoil her with love as well as material items. She will also be raised with values, responsibilities, chores, respect, and self-love. We all work hard and we are able to spend our money in the way we choose."
We have to admit that she summed everything up perfectly. The world needs more moms that place priority on their children's happiness than their own. Plus, who are we to judge whether someone is spoiling her kids or not.