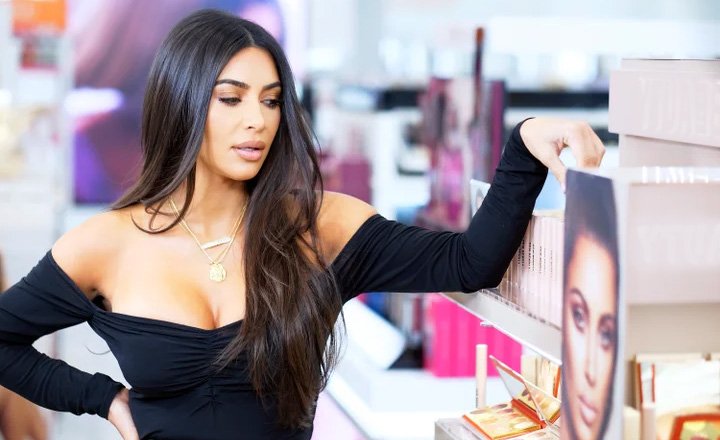 Kim Kardashian just launched her inclusive line of shapewear called SKIMS in September and within seconds, she sold more than $2 million dollars of shapewear. Currently, Kim is busy stocking her depleted inventory. But that hasn't prevented her from planning for her next big move.
Kim has already expanded her KKW Beauty line to be sold at several popular retail stores such as Ultra Beauty. But she isn't a lady to waste time and is already planning how she will expand her beauty line into a whole new category.
In a recent interview with Refinery29, Kim stated that she is obsessed with skin care products and is always trying out new lotions, creams or facials. She still hasn't made a public announcement as to what she will be calling her skin care line, but rumors have it that she might be naming it after her youngest son – Psalm.
It seems Kim isn't just dreaming about creating her future skin care line. In May of this year, she filed to trademark a long list of skin care products such as lotions, cleansers, serums, creams and exfoliating facials. But she has trademarked her products under the name of her new baby boy "Psalm West." Interestedly enough, Psalm was born in May of this year, a week before Kim filed for trademark protection.
We are positive that Kim will not make the same mistake with choosing a name for her upcoming skin care line, as with her shapewear line. Kim Kardashian had to rename her Kimono shapewear collection to SKIMS when being accused of cultural appropriation.
Her younger sister, Kylie Jenner also launched her skin care line called Kylie Skin. All four sisters admitted that often their theme of conversation between them is different beauty products. They will often share a new facial product with each other in their private group chat. The girls love testing and reviewing skin care products together.
Kim Kardashian West didn't give us any more information as to when her skin care line would be released or what type of products it would contain. Speculators assume that all of her products will be suitable in treating psoriasis. Kim has been quite public about her battle with psoriasis, since 2010, and is always sharing techniques that helped lessen the symptoms.
We also assume that her skin care line will focus heavily on deep hydrating moisturizers and ointments. Kim says she has dry skin and loves to use thick moisturizers when travelling, as air travel tends to dry out the skin even more.
Even though we still don't know when Kim's skin care line will be launched, we do know that it will be a stellar product. It seems that whatever Kim designs or promotes, turns to gold, as she is listening mostly to her fans and critics and not to industry pros who are stuffed in an office somewhere.
In the meantime, we can check out her KKW Beauty line online or on the shelves of many retail stores near you, such as Ultra Beauty.