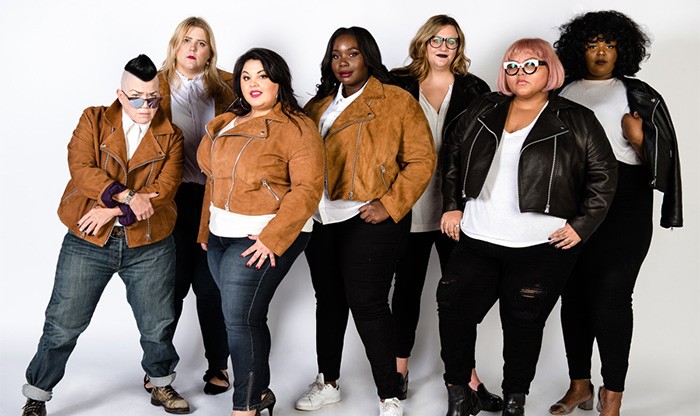 The fashion industry has been doing a lot of talking recently about promoting more plus size styles and making brands inclusive instead of exclusive. But, all this talking has made us lose faith in their empty promises. Customers want, better said, and are demanding styles that they actually want to wear and look good on, as well.
Last year, we saw a few fashion brands step into the plus size market but only embracing certain sections of their collection such as jeans or lingerie. But, women still want more; they want more styles for plus size gals that maintain the aesthetic and quality of their counterparts.
Thankfully, this year the fashion industry stopped talking and took action this year by making inclusive the new norm. Here are some of the best fashion brands that have recently taken on size extensions.
American Eagle Outfitters
Earlier this year, American Eagle Outfitters presented us with a must-have denim collection with sizes starting at 00 to 20. But they wouldn't stop there and just expanded their sizes to 24. American Eagle Outfitters hasn't just expanded their prized signature jeans in more sizes but into every girl's closet across America.
Anthropologie
Anthropologie has given us everything we need to look like an effortless bohemian with flowery prints and maxi dresses. But, this year, they have ventured into the inclusive dress size market by launching A+nthropologie. Their entire collection will be available in petite sizes up to 26W, including their exclusive brands of Citizen of Humanity, Stone & Cloth, Farm Rio and their one-of a kind designs.
Apiece Apart
The New York Company is gaining popularity by taking a whole new approach to style, with a laid back attitude that we love. Made with comfort and quality in mind, so much so, that you will never ever want to take it off. But until this May their collection was only available from 4 to 14, but as of May of this year, it is available from 00 to 20.
Athleta
Athleta is our go-to fashion brand for all of our exercise needs but they haven't just added a few inches to their original styles. They have gone the extra mile by making sure each size will perfectly fit to your body's curves and sizes, so that your exercise wear will move with you while you are working out. They have just launched, online, their inclusive collection up to 3X.
Drapper Jones
The Reese Witherspoon fashion line, Drapper Jones, collaborated with Eloquii recently in creating the best plus-size collection ever, and by ever, we mean ever. The entire collection is available in sizes from 0 to 24, making it one of the most inclusive fashion brands on the market today.
For Love & Lemons
This fashion company has edgy, seductive and flirty party dresses that resemble lingerie. Thankfully, just last month, they announced that they have expanded a new collection of seven fashionable pieces in plus sizes from 1X and 2X, which is equal to the American size 16 and 18. Even though that is a small size increase, it is a positive start for this small but innovative company.
Vineyard Vines
Vineyard Vines just debuted their upcoming fall collection but they have expanded their line into even more sizes, ranging from 00 to 24 and their jean collection from 24 to 37. But the wide assortment of sizes hasn't made them compromise on their perfect fit, style and quality.