You are finally ready to leave the house, looking slinky and sparkly. You owe your prefect silhouette to your slimming shapewear, but the last thing you expect is your flawless look will be ruined within an hour. None of us want to spend the evening fiddling with or trying to hitch up our shapewear.
If you have ever worn shapewear, you know that the threat of your spanx rolling down is very real. From shaping panties to girdles, it seems almost impossible to avoid the roll down, the minute you sit down.
Shapewear isn't just about helping you look your best but also about boosting your confidence, but that spanx roll down can destroy even the most positive attitude. So you want to stop your shapewear from rolling down once and for all, with these following useful tips that will banish roll-down forever!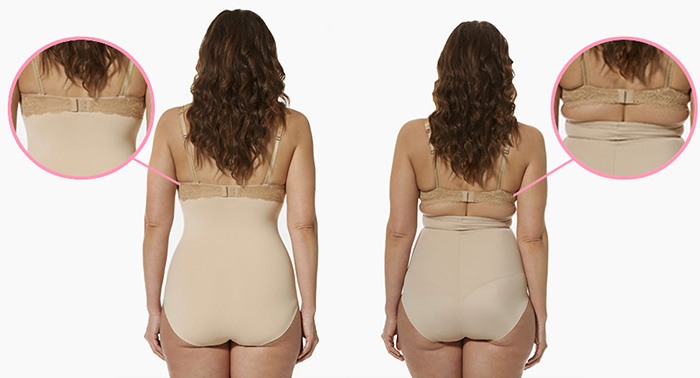 Choose the Right Shapewear
Lots of cheaper shapewear brands are made from a lower grade of fabrics, which quickly lose their compression properties. For example, when looking for a high-waist shapewear that doesn't roll down, make sure it has a silicone waist band that helps it stay in place, no matter what you are doing. These silicone strips are like super glue for your skin, as it helps your shapewear literally stick to you.
It's all About the Compression
The more support the more easily your shapewear will stay up. If you find most shapewear you wear tends to bunch up while sitting, then you should look for styles made from firmer compression. It will have more shaping power and it will stay in place no matter what you are doing.
Get the Right Size
The key for no roll shapewear is wearing the correct size for your body. Be honest with yourself. If you are a size large on the size chart, don't order yourself a smaller size, reasoning that you will be getting double the shaping power. Sizing down basically guarantees that your spanx will roll down. A smaller size won't only roll down but it will accentuate all of your wiggly bits.
Know When to put Them On
We know you are in a rush to look your best and get out your front door to start enjoying your life. But just as you don't apply your facial foundation to a wet face, you can't put shapewear on while your skin is still damp. The dampness of your skin will cause some major spanx roll down issues when it dries, so just put it on when your skin is completely dry.
Take Your Time Putting Them On
Have you ever tried to put on pantyhose in a rush then you know that you most likely will be walking around with a wedgie the rest of the day? Take your time to put your shapewear on to ensure a flawless fit and once you have them on, do a little dance so they can settle into every curve perfectly.
A Little Extra Tucking Can go Along Way
Sometimes, your other undergarments can act as an anti-roll tool, for example, transform your high-waisted panty into a full bodice by tucking the top part under your bra strap. Or layer your shapewear such as wearing a hi-waist boy short with a pair of control panties over top. You can also create your own high waist shapewear that doesn't roll down by sticking it to your body using dressing tape, for zero roll-down!
Hairspray it Into Place
This hack might sound a little on the odd-side but believe us it really does transform your spanx into no-roll shapewear! Spray your midriff with hairspray just before putting on your shapewear; it will make your skin slightly tacky. The tackiness of the hairspray will stick to the shapewear helping it stay in place, no matter how active you are.
Anchor it up!
If tucking it or taping it up just isn't strong enough to keep your shapewear in place then you should try anchoring it up. If you are looking for shapewear that doesn't roll or bunch up them look for styles that hooks up to your bra strap then look for styles that hooks up to your bra strap. Other styles that won't roll or bunch are control slips or bodice with straps.
Go Commando!
If you already went out for a night on the town and you didn't follow the above shapewear hacks to stop it from rolling down. Then your best option is just go commando for the rest of the evening and forgot about your rolling down shapewear.