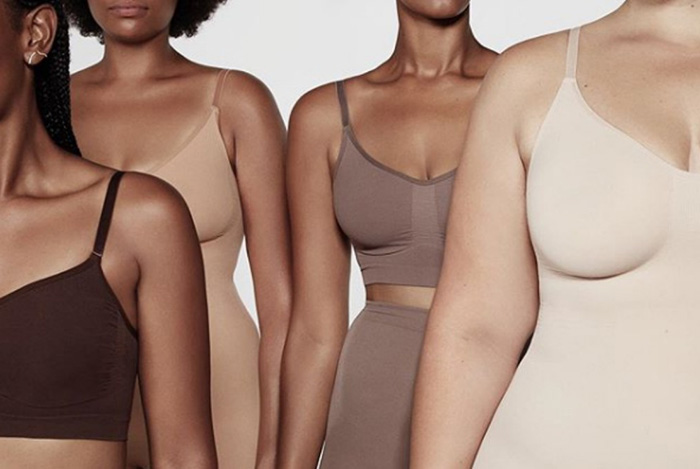 New shapewear brands are profiting from promoting body-positive shapewear by creating inclusive styles for all body types, sizes and skin-tones. But how do these so-called inclusive shapewear lines affect their body-hugging predecessors, such as Spanx?
The 2001, blockbuster "Bridget Jone's Diary" transformed her unsightly beige toned scary stomach-holding in pants, into an intimate wear essential for women worldwide.
Spanx has dominated the shapewear market for more than two decades but recently they are coming up against some newfangled shapewear brands that are giving them a run for their money. These new shapewear brands are rapidly changing how women shop for shapewear.
With more and more emphasis on helping women have a positive self-image of their bodies, ethnic background and size, there has been a revolution in how women view and buy intimate wear. In the past shapewear brands such as Spanx, promoted their products by body shaming their customers, by stating the fact if you can just squeeze your way into this compression wear, you will be slimmer and skinnier.
Spanx started getting a bad reputation back in 2015, when Tracee Ellis Ross stated in an interview with the New York Times, that her Spanx "was hurting like the bejesus." Her innocent statement ignited a movement of women who wanted to have shapewear that didn't promote perfection.
Ayako Homma, a beauty and fashion consultant stated that women aren't dressing to impress others anymore, but for themselves. They are placing emphasis on showing off their personal style and comfort. Shapewear brands that were known for compressing their bodies are avoided. Instead, they opt for newer brands that promote enhancing their bodies while still being a comfort.
Shapewear brands that can double as underwear are striking the biggest increase in sales. In 2018, the women's intimate wear market was worth more than $83 billion dollars and has seen a 4% increase this year alone.
In the United Kingdom, they have seen a 93% increase in Internet searches for shapewear between 2018 and 2019 alone. Plus there have been two new shapewear brands that are reshaping the way women everywhere view old-fashioned "granny panties."
In 2019, Heist Studios and Kim Kardashian, SKIMS, have stepped up to dominate the shapewear market, by taking great strides in creating body positive and inclusivity. Companies such as Spanx and Victoria's Secret have been deemed to be exclusive, sexist and even promote body shaming.
Heist Studios are gaining popularity due to the fact that they are incorporating innovative technologies that smooth your curves without compressing. The Italian luxury shapewear brand, La Perla is planning on introducing its own take on shapewear in the next year.
Kim Kardashian launched her SKIMS Solutionwear line in September of 2019 and within minutes, sold more than $2 million in shapewear. But her outstanding sales were not entirely due to her celebrity connections but mostly because her collection was able to resonate with the present preferences of the consumer.
SKIMS offered women a variety of sizes from XXS to 5XL and in nine natural skin tones. Plus the styles sculpted and enhanced instead of compressing. But in contrast, the majority of Spanx products come in three colors: Black, beige and white. Plus most of their collection only comes in 5 sizes starting at XS to XL and for other plus-sizes, they offer a separate limited collection for plus-sized women.
Spanx is trying to break into the inclusive, body-positive market, but adding some different skin tones to their collection but they have been criticized as only a few items are available in those skin tones.