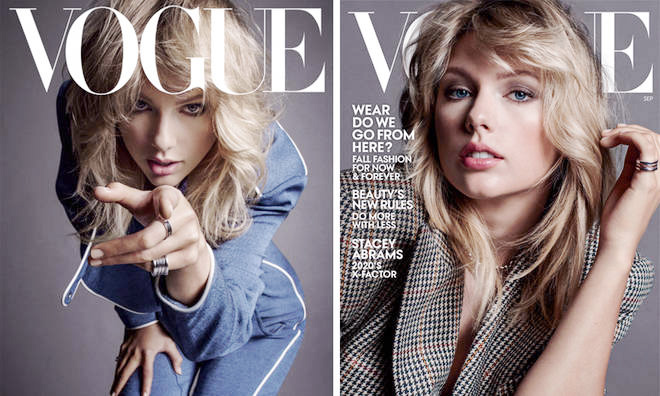 Taylor Swift leads a pretty private life and rarely opens up to the public about her personal life or her feelings on different subjects. But in a recent interview with Vogue Magazine she spoke up about her views on sexism, politics, and even about how her falling out with Kayne and Kim Kardashian-West affected her.
The 29-year old singer and songwriter had a very public feud with Kim Kardashian about 3 years ago in 2016. She was heavily critiqued by her fans for the bad blood with the Kardashian-West family and was called a "snake" on social media.
The feud all started with some lyrics in Kayne West's song "Famous," that mentioned Taylor Swift. But the problem was when Swift approached Kim and Kayne about the lyrics, the entire conversation was captured on a video clip that went viral instantly.
Once the video was released on social media there was no way to remove it or prevent Kayne's and Kim's followers and fans from seeing it. Thousands of thousands of the Kardashian-West fans viscously attacked Swift's Twitter, Facebook and Instagram accounts by calling her a snake. Plus, they created hashtags that demanded she be cancelled.
Taylor Swift described the entire ordeal as a "mass public shaming". She described that she felt isolated, alone and hated. She said it very humiliating and humbling to feel the hate of literally millions of people online who were publicly shaming her.
They would hashtag her by telling her that she "is cancelled". Being cancelled, as a human being is not the same as a cancelled television series, basically millions of people wished she'd have just disappeared off of the face of the earth. She admits in the interview with Vogue that she felt that her life was out of control.
She decided that she would turn her unspoken feelings into her music, as it was the only way she could make it through this public and constant shaming. She stated that sharing her story through music helped her preserve her sanity and mental health. Plus, it helped her stop feeling sorry for herself.
Kayne West has humiliated Swift in the past, such as when he grabbed the microphone from her at the MTV Video Music Awards. Swift was still giving her speech and Kayne West just grabbed the microphone and said that Beyoncé deserved the award more. But that was back in 2009, so all was forgiven, or was it?
Then Swift released her sixth album in 2016, labeled Reputation. It was released shortly after the public feud with the Kardashian-West family and being made to feel like a outcast. The album songs and videos portrayed snakes and being stabbed in the back by close friends. That caused quite a stir, as it stirred up all of the hurt feeling between her and Kayne and Kim.
But Swift didn't just mention her hurt feelings but also her sexual assault case from 2017 against the radio DJ, David Mueller.
Also, as her fans know many of her songs have hidden storylines that allow them to delve deep into her soul. Many times, fans are left speculating as to the actual meaning of each song. But she opened up about one of her most mysterious songs "Your need to clam down" and that the meaning is mostly about equality, inclusivity, sexual rights and much more.
The purpose of this rare interview with Vogue was to promote her latest album called "Lover" and will be available on August 23.
Source: Vogue