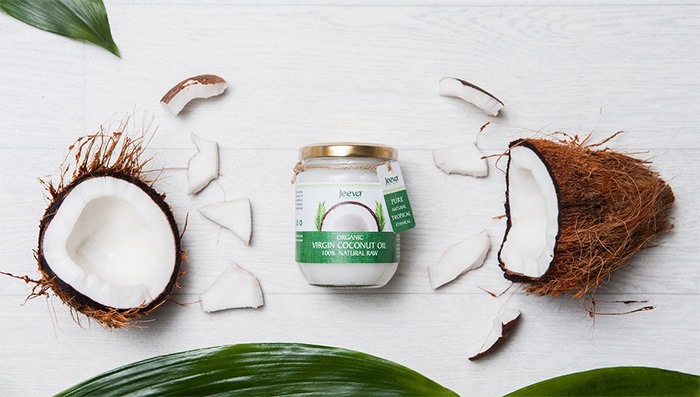 Summer might be ending but that doesn't mean you have to give up your dewy summery skin. Coconut oil has been around for awhile but it has taken awhile to be made into beauty and skincare products that we actually want to wear.
Coconut oil is a super intense hydrating ingredient that your skin just drinks up happily but it also works great as a natural deodorant. Thankfully, coconut oil is found in almost everything else these days from our makeup, hair products, facemasks and skincare creams.
The rich scent instantly reminds us of warmer days, sitting on the beach, just enjoying the simple pleasures of life. Jennifer Lopez swears that her natural glow comes from lathering on coconut oil daily. But, it is hard to find the right product that won't leave your skin feeling or looking greasy. We have compiled some of the best coconut oil beauty products out there.
Glossier Haloscope
Bring that summery glow in a quick swipe of this highlighting stick. Glossier has created a nourishing and hydrating skin highlighter made from coconut oil and castor oil. The extra sparkle comes from genuine crushed rose quartz and topaz crystals.
RMS beauty Lip2Check
Looking for a lipstick that works overtime as a hydrating chap stick? RMS Beauty has created the perfect fix with a coconut oil base lipstick that gives you that splash of color plus hydrates your lips. Their tinted rouge lip2check is a must have for every girl's handbag.
OGX Coconut Miracle Oil Conditioner
Let your dry brittle hair be nourished by an overdose of non-greasy coconut oil conditioner that will repair spilt ends before they even happen. Best part is your hair will smell like a tropical holiday all day long.
Herbivore Coco Rose Coconut Oil Body Polish
The packaging alone of this body polish makes you want to have a spa night with a glass of wine. The coconut oil will leave your skin soft and smooth with a healthy glow.
Kopari Coconut Deodorant
Looking for a healthy alternative to cancer causing aluminum deodorant brands? Kopari has been one of the best coconut oil based deodorants on the market for it's affordable price, invisible application and the fact that it leaves no marks on black or darker colored clothing.
Plant Apothecary Get On It
This coconut oil based body wash will invigorate your skin each time you use it, leaving your body feeling fresh, hydrated and oh-so soft.
Hello sensitivity Relief Soothing Mint Fluoride Toothpaste
This isn't your typical toothpaste. The coconut oil and xylitol formula is powerful enough to leave your pearly whites sparkly white and clean. But, since they contain no chemicals they will whiten the most sensitive teeth.
Shea Moisture Coconut & Hibiscus Hair Masque
One of the best hair masks out there, it will restore even the driest or all types chemically treated hair making it come back to life. Say goodbye to frizz once and for all with this brilliant masque.