You are beautiful, and regardless of what anybody says, you are sexy too. However as women, we always want to look prettier, and with all the changes in our bodies as a result of pregnancy, hormone imbalance, job type, and an inactive lifestyle; we accumulate fat in our stomach, back, butt, thighs, etc.
Well, if you have tried all the diet and exercise trends on the market, and still can't get the body of your dreams, worry not; the beauty manufacturers recognize how hard we try and have produced shapewear bodysuits that will have us looking slim and sexy with contours in the right place to fit in a dress one size your original size. So let's look at this garment that is changing the way we rebrand ourselves, and it's faster than exercising and starvation even if it's temporary.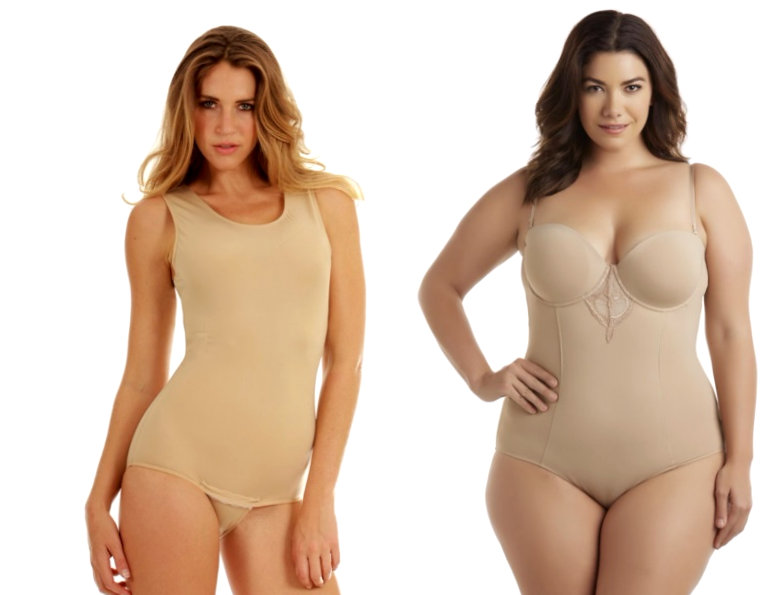 What is a Shapewear Bodysuit?
Ladies, we all know the magic that shapewear can do for a woman's body, instantly transforming you to one sexy, youthful, and slimmer lady at the pull of a zip, buttons or after several hundred hooks. The best part about these women's bodysuit or whatever you decide to call them is that you can put it on all by yourself and not worry about metal buckles, tight lacings that shifts your rib cage and compresses your organs. Primarily, bodysuits are foundational undergarments that women wear for that instant body altering shape for as long as they need it.
Is it safe?
Well, body shapers existed for centuries and when worn correctly don't pose any danger to the wearer. Since the Victorian corset days, bodysuit shapewear designs are lighter and softer fabrics that sit comfortably on our skin seamless and flawless rearranging the fat to create the perfect shape for that dress. With technology, slimming bodysuits are high-quality and don't causes any pain and can even be very beneficial too.
What are the benefits of a Bodysuit Shaper?
Improve Blood Circulation and Support
Aside from slimming us down before a dinner date, a woman's bodysuit can improve blood flow and provides structural support for the muscles of the back, stomach, and thighs depending on the length of the shapewear. It also improves the posture of the wearer by aligning the bones for a straighter position during sitting or standing.
Look Slim Instantly
Isn't this the best; look sexy and slim without trying hard? The shapewear bodysuit shaves off the pounds and allows you to fit into a dress smaller than your original size.
Reduction of Cellulite
Thanks to technology, some bodysuit help to reduce cellulite through a technique called micro-massaging to even creases and lumps for a smoother skin.
Helps you lose Weight
Regularly wearing the slimming bodysuit will take the pound off while firming and tightening your skin. How does that happen? When you wear a bodysuit, you reduce and compress the size of the area covered by the bodysuit; if the suit is over your stomach, it reduces the amount of food and drinks intake thereby causing a reduction in weight over an extended use period. In addition, thermal bodysuits are also available to burn off fat around your mid-section.
Increases and Support your Bust
We all want bigger boobs and slimmer bodies that only a bodysuit can give us. When worn correctly, it moves the fat to the bust region, creating an illusion of a fuller bust line. All you need is a good bra, and we are good.
How bodysuits enhance your Curves and Looks?
So because we all can't afford cosmetic surgery, the body shaper is the next best thing for enhancing and changing the looks of our bust, thighs, back, waist, and stomach. With the right bodysuit shaper, you will attain that hourglass figure effortlessly daily without any hassle. Shapewear is also compression garments that work by pushing around the fats in our stomach area and all over to take inches off your waist.
Shapewear is science gift to women, and we are enjoying everything about it. Even though it won't cause you to have washboard abs instantly, you will look sexier and curvier.
Shapewear is a type of compression garment, which means that it works by pushing fat in and compressing your entire stomach area by taking inches off your waist size. Shapewear is women's miracle garment that is giving us good body shape without hassle. A very tight shapewear will usually make you look bigger than small and slimmer.
Choosing a Bodysuit for your Body
Your bodysuit should always fit close to your skin and lay smoothly over it. If your bodysuit digs deep into your skin or cause pains or you have any difficulty breathing, moving or experience any discomfort, you should immediately take-off your bodysuit.
Four factors to consider when buying a bodysuit are
The Right Size: most women try to choose a size lower than their dress size, but this is not advisable. Pick the right fit that will keep you comfortable. To get the correct size, take your waist and hip measurements and buy with these measurements. A wrong bodysuit size makes you unattractive and distorts your beautiful figure.
Compression: body shapers are tight, but they are made with elastic material to get good movement in them. Even though they work by shifting your inners, the right size will not compress you but will move the fat to the right places to create beautiful contours for you.
Where to smoothen: depending on the area you want to reshape a bodysuit comes in various models to help you achieve the perfect contour. However, don't wear them for too long as using a bodysuit to a smoothing garment is a gradual process that takes time.
Main Use: bodysuits are for various purposes; to slim your tummy, thighs, or lift your bum. When choosing a bodysuit, ensure it's tailored to your needs and objective.
How to wear a Bodysuit?
A short bodysuit: this is excellent for ladies that want to slim their waist and flatten their stomach alone. This garment is the perfect addition to every woman's wardrobe and will help you look slimmer instantly without any worries. It also acts as a waist trainer and stomach shaper.
A medium bodysuit: this extends beyond your waist and lowers stomach to your bum. The length is over the bum and is excellent if you are looking to get some lift in your bum too. They are super comfortable and create a perfectly snitched waist, flat tummy, and a well-rounded bum.
The Long bodysuit: this extends over your thighs to your knees and great for women that need to slim their thighs too. The fabrics are soft and create a slimmer silhouette with or without bra support as the case might be.
The pros of wearing a women's bodysuit outweigh the cons as they provide better support at reshaping women and increases their confidence and self-esteem. When buying a bodysuit shaper, remember to buy your size and the purpose of the suit. Avoid overly tight garments or wearing for long periods.