Give your hips a hug and cozy up to your curves with the lady-like version of your boyfriend's favorite boxer shorts. Boyshorts provide you with a cute, cheek free cut that stays in place no matter how active you are and won't ride up. These simple little undies feel as good as they look.
These oops-free panties are as comfortable as your boyfriends sweatshirt but with loads of sex appeal. Maybe that is why women everywhere love the boyshort panties. The truth is that there isn't anything really boyish about this adorable panty style, just a large dose of femininity, and a splash of cuteness and a pinch of spunk.
Another reason women love boyshorts is because they are literally the ideal panties for every body type. They are comfy enough for hitting the gym or for a casual night on the couch but still sexy enough for a night out on the town. But have you ever wondered how men interpret the women's boyshort underwear?
Men love the boy short woman's undies because it emanates that you are confident, fun-spirited and easy-going. It highlights onr of your best assets – your booty. Men consider it to be one of the sexiest panty styles. But what are boyshort panties?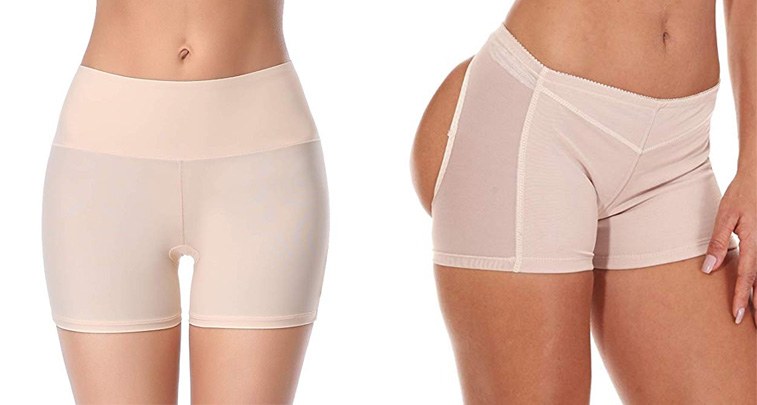 What are Boyshorts Panties?
First off, we do admit, the boy short is a terrible name for a panty, but for obvious reasons, this panty got its' name after its' masculine counterpart – the boxer short. The boyshort underwear, over time, evolved into the feminine version that we love.
But why are boyshort panties so popular with women everywhere? Besides that fact that it makes your bum look booty-liciuos here are some other reasons why you need to start wearing them today!
That extra side coverage around the hip area isn't only for comfort but it looks chic and conceals our insecurities.
The wider side seam sits flat against your thigh and is designed not to dig into your skin or roll down.
You can get full bum coverage or opt for a cheeky style with minimal bum coverage, depending on the style you are going for.
Say goodbye to bum floss or wedgies.
Comfortable enough for lounging at home but sexy enough for a romantic evening with your partner.
They don't bulge at the waist, adding extra bulk under your clothes.
Certain styles prevent chafing and irritation from your inner thighs rubbing together.
How to choose the perfect boyshort
There are quite a few variations to the women's boyshort underwear; here are some of the most popular styles.
Modern tomboy boyshorts
Resembling the original male brief with a thicker waistband, button-down fly, reinforced seams or a sporty tomboy style. These panties are extremely comfortable to sleep in or for lounging on the couch. Plus, if you are looking for a panty that stays in place while exercising this is the panty for you
Cheeky boyshorts
These cheeky booty-shorts are a must have for every girl's closet, as they sit a little higher on your bum, leaving most of your lower booty exposed. Wear this style when you are feeling sassy and want to feel extra sexy. Look for seamless styles that match your bra.
Girly boyshorts
Girly boyshorts sit lower on the hips but with a touch of sexiness and femininity. Some styles will sit higher on the bottom and others might sit lower. This is the most common style of boy shorts available as its neutral design is ideal for everyday wear.
Shaping Boyshorts
One of the most popular styles of shapewear as it gives your entire midriff the tummy tuck you need to feel and look your best. Plus it comes in different styles with a higher waist to eliminate your muffin top or back fat. Some styles come with butt lifting power.
How to wear your boyshorts?
There is a panty for every occasion and a pair of panties to match your constantly changing mood. Here are some simple suggestions so you can look fab wearing your boyshort panties.
Loungewear
If you love wearing panties to bed, then look for boy short styles that provide a little extra coverage and have a lower cut leg. You can look for styles with thick seams and a waistline, as you won't be worrying about panty lines.
Low-rise jeans and trousers
Boyshort underwear was created for wearing with low-rise everything. As the waistline sits softly on your hips, generally two inches below the conventional waist. Just make sure that you look for seamless styles to avoid visible panty lines.
Just about everything else
Shaping boyshorts are the ultimate panty because they tuck away all of your wiggly bits and give you an extra boost of confidence. And depending on the length of the short, they can prevent chafing and smooth out your thighs. Plus some styles have a high-waist for a little extra tummy control.
Verdict
If you want to invest in just one style of panties, then the women's boyshort underwear is all you need to make the perfect foundation for all of your ensembles. Especially the shapewear version of this style, as it will guarantee a flawless look, day after day.