Nothing is as remarkable as getting comfortable with your body, loving and adoring without being unnecessarily self-conscious. As a woman looking good is serious business, that's why we spend so much time at the gym trying to make our body fit into the social norm. So it's no longer about having a pretty face, an amazing physique, especially in the butt section of your body, is quite essential. The shape pant is one incredible fashion tool that works magic in this regard.
No one is ready to undergo the risk of being cut out by a knife and spend tons of cash getting it done. Do you want a well-rounded backside? A shape panty will not only give you a perfect butt shape, but it heightens your level of confidence. Creating that illusion of staying comfortable right underneath your skin.
In most cases, being comfortable with your body and your skin will determine how radiantly beautiful you would appear. No one enjoys a gloomy face, it never speaks well of one's persona, the shape panty works excellent trick that you might have never thought of. This has made it remain on the list of most women fashion item, considering how it accentuates their butt, tummy, and hips to fit perfectly with other parts of their body.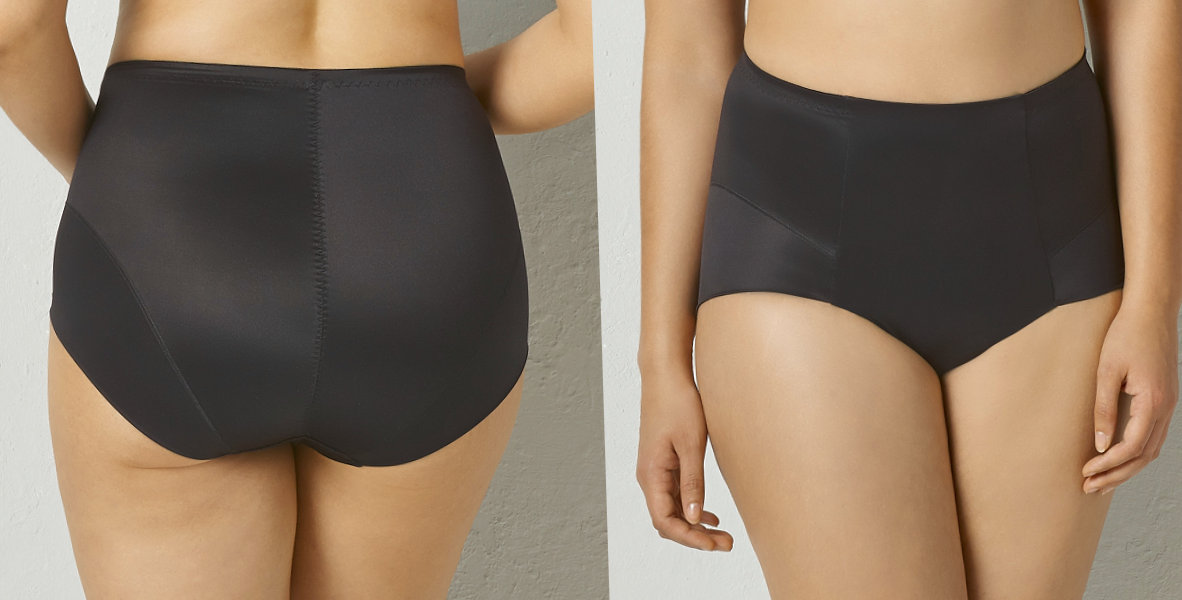 How To Choose The Right Shape Panty For You
As fabulous as this fashion tool is, there are key factors you need to consider before making your purchase. This will help you ensure that you're buying what works perfectly on your body. We will share some basic tips that will guide you when making your shape panty purchase.
• Size: Getting the perfect fit for a shaping panty requires knowing your waist and your hip size. Ensure you measure your take a tape measurement of your natural waist and the fullest part of your hips. Don't make assumptions. Most females experience faster growth rate especially in body size that might not be easily noticed. Double check to confirm your size before buying a shaping panty.
• Compression: Take cognizance of the compression of the shape panties, ensure it is firm and fitting. This will prevent constant pulling up and down of your shape panty. Tad bits details such as this will help you stay sharp and fly throughout your day. You deserve the complete freedom to move without even thinking about it. A shape panty is good when it doesn't roll up on you leaving to keep adjusting on the fly. What makes for undergarments that require constant adjustment?
• Length: When considering the length of your shape panties, ensure it is tailored to the particular problem area you want it to correct. They come in three basic lengths, the short (normal shaping panty), medium (shaping hips) or long (tummy control shaping panty). If you want a duality function, then what you need is the tummy control shaping panty, gives your all-around butt supports and helping you tuck in your tummy giving it that flatness and aesthetic look. Assess why you might need a shaping control underwear.
• Main Objective: Every female has unique reasons for choosing to buy shape panties since we all have different target areas we're trying to correct on our body. The priority is finding a garment that enhances your body part, bring out that curvaceous area of your body and hiding the loose sides. Whether it is butt shaping panty, tummy control or a thong shape panty, ensure you're buying what works perfectly with your body. There are cases where you've got a well carved out curve, but your priority is smoothening it up. Then you should consider getting a high-waist panty.
How To Wear A Shape Panty
After an exhaustive search of looking for what to wear and you thought your worst nightmares are over, but you're still left with making your choice of underwear. There is always that one underwear that falls into the list of our top favorite undies, but might not be suitable for a particular dress that we need to wear to an occasion. We will explore three categories of shape panties and the type of events they should be worn.
1. High Waist Shaping Panty
If you're considering putting on a skirt or laced dress, then your go-to choice should be the high waist shaping panty. It correctly places everything in the proper position. These gems might not look a lot sensual but talk of rocking it under a pleated skirt, they sure work magic. It's cool when you're elegantly dressing and making those A-steps, but it is fantastic when you're wearing a shaping pant with seamless edges. Sometimes going Granma gets the job done effortlessly.
2. Tummy Control Shaping Panty
This shaping panty gives you an accurately sculpted waistline, and carefully tucks in your stomach into its proper position. This gives you the opportunity to rock that pencil skirt in your closet that you've had for long but scared to put it on because of your tummy. You deserve to carry a stunning look every single day, and the tummy control share wear is the answer you've been searching for.
3. Seamless Panty Butt Lifter
You can get a well-rounded butt that fits flawlessly with your hips and waist. The seamless panty butt lifter helps you stay sexy and remaining comfy throughout your daily activities. These are not the padded type that forms an unbalanced shape of your butts. For women who are going through their delivery period, which sometimes comes with complications that can make them lose shape. Don't worry focus on taking care of the newborn because the butt shaping panties got you covered. The seniors who are experiencing fall out in their skin can also make use of the butt lifters to make their butt firm and comfortable.
The act of looking good is quite fundamental and essential especially when it concerns putting your body in good shape. With shaping panties, every woman is a model in her heart and the sight of her admirer.