"You are beautiful just the way you are…"
"Your body doesn't define you…"
"Confidence is the most important attire…"
At one point or the other, you may have heard these phrases, whether they were said to you or not. It is a beautiful time to be alive, the world is flooded with body positivity messages and everything seems great. But let's face the truth; are we ever 100% satisfied with the way we look? Someone will always want to be thinner, bigger, curvier and whatever else the media is appraising.
Now, while there is nothing wrong with desiring your "dream" body, what if I told you you could still rock your body just the way it is? What if I told you low cut tops are no longer off limits? That clingy little black dress? It's been in the closet for way too long. Drop your body woes at the door, I come with good tidings in the form of tanks and camisoles.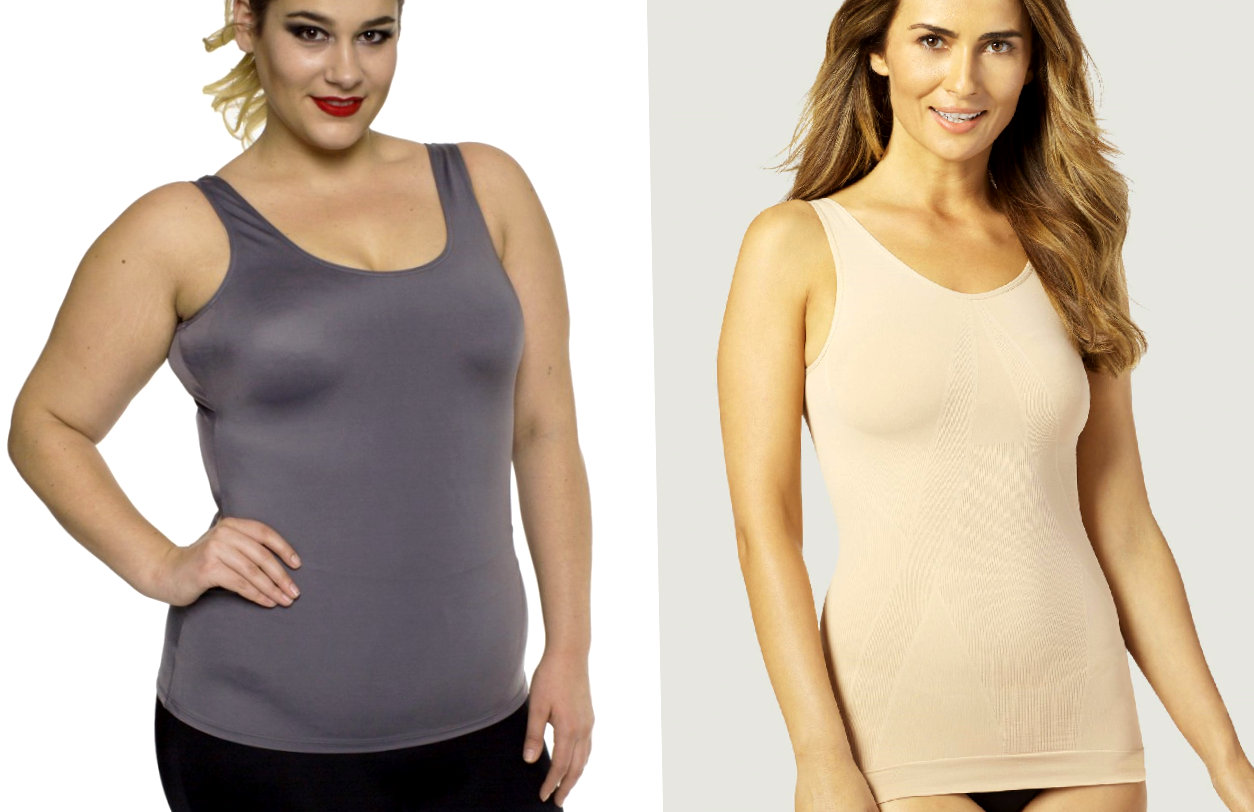 What are tanks and camis">What are tanks and camis?
Tank tops often shortened to tanks and camis, short for camisoles are sleeveless upper body shapewear. Camis and tanks are available as loose fitting wears, however, tanks and cami shapewear specifically refers to the fitted and shapely ones. They are typically worn as undergarments or as inner tops under blouses, dresses and dress suits. While camis and tanks have a lot of similarities in style and function, there are some peculiarities to each type of shapewear and here are some differences between them to help you know which one is which.
Camis have simple adjustable spaghetti straps, just like bra straps but thinner. Tanks come in a variety of strap designs including wider straps, halter necks, crisscross back design etc.
Camis are usually crafted with materials like silk, satin, cotton and spandex, most tank tops are made from cotton, polyester or the blends of either.
Some camis have inbuilt cups – shelf bra. Tanks on the other hand are not available with cups.
Camisoles are more lingerie-like and are typically worn as inner wear, tank tops are more versatile and can be used as innerwear, casual outerwear and even as sportswear.
Camis may have embellishments like lace trimmings and girly details like a bow. Tank tops are mostly bare although the fabric may be patterned for a more stylish look.
What are their benefits of tanks and camis?
Tank and cami shapewears are awesome and unsurprisingly, they are becoming wardrobe essentials for every woman. Camis and tanks are perfect for low cut blouses, if you are on the busty side and you are not so comfortable with your girls hanging out, the shapewear can help keep things out of sight.
Small chested women are not left out, on days when you can not be bothered to wear a bra, a camisole with a shelf bra will do double duty. Tanks and camis can be worn under a sheer or lacy blouse, that way you can rock your outfits without the nagging self consciousness of showing "too much." Also, they are perfect for women in warmer climates, is it too hot outside? Throw on a tank and get to business.
How can a tank and cami shapewear enhance your body curves and look?
Shapewear camis and tank tops are what I like you call "quick lipo". While they do not suck out any fat from your body, they have a way of tucking in those problem areas to give you a slimmer figure. Once you put it on, the shapewear has a way of smoothening out the bumpy and lumpy flesh so the outerwear can hug your curves and still remain flattering at the same time.
Tips on choosing the right tank and camisole shaper
Buying the right tanks and camisoles is as important as the act of wearing one itself. Why? Let's say you get a camisole that doesn't fit or isn't exactly functional in colour, the probability that it is going to be put to use regularly is almost non existent. There are a variety of camisoles and tank tops and it is important to go for one that suits you best.
The following are useful factors to consider when choosing women's tanks and camis.
1. Size: Camis and tanks are available in all shapes and sizes, that being said, when you are picking out a shapewear, it is imperative that you put your size into consideration. Bigger and bustier women should definitely go for bigger sizes. For camis, you can skip the ones with cups and shelf bras as the underwire and elastic may not be enough to support your breasts which would still require you to wear a bra. Tanks with wider straps are also recommended so your bra straps are fully covered up. Smaller chested women can make do with the regular thin straps in camis. Camis with shelf bras and cups could also come in handy on days you feel like going braless.
2. Compression: Shapewears are to designed to give you a smooth silhouette so whatever you wear looks flattering. To give that smooth silhouette, the fabric needs to be tight fitting. Now, how fitted and compressing you want your shapewear to be is entirely up to you. Would you be more comfortable in a regular fit or do you prefer your camis and tanks skin tight? Always remember to choose comfort over style.
3. Fabric: When buying shapewear tanks and camis, it's necessary to evaluate the texture of the fabric used. How comfortable is it on the skin? The fabric will most likely be on your skin all day long, if it doesn't feel good, then you do not want it. Do you perspire a lot? You might need a fabric with good wicking ability. Blends of polyester and lycra will keep you warm and dry. Essentially, whatever your shapewear is made from should be a material you are comfortable with, the last thing you need is discomfort due to clothing.
4. Color Color is a vital aspect of clothing but unlike regular clothes, when it comes to shapewear you should consider sticking to dark and nude colours. Imagine what you would look like wearing a neon green camisole under a sheer blouse or a bright pink camisole underneath a beige dress suit. At best you will look like a social misfit with a taste for brightly coloured inner wears. The point here is, the colour of your inner shapewear should not contrast too sharply with your outerwear, to be on the safe side, you can not go wrong with dark and nude colours.
5. Problem areas To emphasize on the point I made earlier, the essence of wearing shapewear is to tuck in anything likely to bulge. If your midsection is the problem area, then a tank or camisole that focuses its compression on the abdominal area would be ideal. If the deal is with the bust area, pick out something with or without reinforcement in that area depending on your personal taste. Whatever you pick should do a good job of flattering the target area of your body.
How to wear a bodysuit
The different types of tanks and camis have different practical purposes and below, we are going to consider for different types of shapewears and the events they are best suited for.
Slim straps: This scoop neck tank top is ideal for women who want to hold in their midsection. The thin straps may not cover most bra straps so women may want to use strapless bras with this one unless they are wearing a shirt or dress over it. The neckline ends right above the cleavage and it would be good for low cut tops. It would also work well with sheer or transparent blouses, low cut blouses and as an inner wear for dress suits.
Without bra section: If you are going for a more toned look around the torso, then this is a perfect match. The bust area is open, however, it comes with a push up function meaning not only do you get to wear your own bra, you get additional support via push up for the breasts. If you are wearing a clingy dress, this cami will make your body pop. However, it is not suitable for clothes with a low neckline as the chest region is essentially bare.
Bra compression: If you are after coverage on the bustline, this V neck wide strap smoothing tank has got you covered. The pull on closure up on the chest is free of wires, hooks or clips and it will give you all the smoothing and compression you want on the bustline. It can be worn under almost anything or alone as an outerwear if you are feeling causal.
Full compression: When you think of an all-rounder in the shapewear department, this is most likely what you have in mind. The shaping holds the bust, waist, tummy, hips and back in place to give you a trimmed look. It can be worn as a regular inner wear, outer wear as well as a sport wear. When I said all-rounder; I meant all-rounder.
When it comes to dressing up, it is important to go for things that flatter your figure. With the shapewear solution for tanks and camis, you can now try out whatever you have longed to wear. Once you start using shapewears, you will likely get obsessed with them – that is how awesome they are. While using shapewear is only a temporary solution, in that moment, you are happy and satisfied and that is all that really matters.