It's the 21st century and waist training is again big on everybody's mind, more and more women are beginning to embrace the ideals of waist training (which can easily be described as a waistline maintenance practices that involves the use of constricting body garments such as garment waist cinchers, slimming underwears, slimming corsets, waist cincher belts, waist nippers, etc.).
As this practice gains popularity and becomes more relevant to more and more women, it is important to understand how waist training garments work and the best waist cinchers availble for purchase.
First and foremost, you would need to understand that a waist cincher is a different kind of corset that helps to compress the mid regions of the body (the waist) so as to achieve a flat waistline. Waist cinchers are created majorly to provide support to the waistline or the abdominal region alone, the brand type and the design would determine the level of support that any waist cincher provides; ranging from minimal or light to extra firm support. Waist cinchers are often referred to as waist trainer trainers or simply shapewear and unlike other kinds of shaping garments (say a corset for example), the focus is simply on the waist and abdominal regions of the female body.
Waist cinchers help to enhance the female body curves, when worn, they can help trim the waistline and by extension reveal your curves easily even after childbirth. Waist cinchers accentuate the body figure and shape by emphasizing and revealing the curves of the body, reducing the waistline and giving a good amount of support to the bust line as well, they are seamless and can be worn conveniently with other garments. Waist cinchers are generally more flexible than other shape wears and this makes it a favorite choice of women across the world.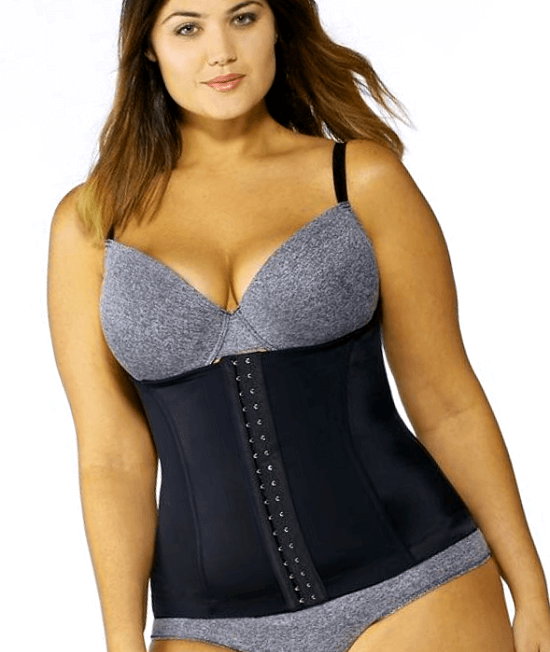 How to choose the right waist cincher for you
When it comes to selecting a perfect waist cincher, anyone could get very confused fast, primarily because of the level of availability of waist cinchers all around us, from online shopping sites to regular door-to-door vendors and in shopping malls. It could get pretty confusing but it is best to select the right cincher that fits you perfectly in order for you to achieve desired results.
You might be tempted to pay for any fancy elastic material (so long as it can give the desired look) but there are a few important factors that should inform the choice of waist cincher and could very well be the difference between buying a 'waist cincher' that creates unnecessary problems and buying the right waist cincher.
Individual Body Shape
The first and perhaps the most important factor to consider when selecting a waist cincher is your body shape. Understand that waist cinchers come in various shapes and sizes designed to fit all types of body shapes, hence, the need to take into consideration your body shape and how your body functions. It always helps to take a detailed measurement of your waistline, know the kinds of materials that work well with your body (some ladies may react negatively to latex materials while others do not).
Match our Body Shape with a Perfect Waist Cincher
While the waist cincher is more effective when it fits the body tightly, it is also necessary to breathe properly while wearing them and to avoid any kind of discomfort that could harm your body, which is why it is important to consider the size of the waist cincher itself. Having taken proper measurements of your body, then pair those measurements with those of the waist cincher, a properly fitted cincher should be between three to seven inches less than your own waistline measurement.
The Length of the Cincher
The length of the cincher is very important because it determines to a great extent the usefulness of the cincher itself and interestingly, your torso length determines what cincher length would be appropriate for you, if you have a longer body shape or torso then you should select a longer cincher. Buying a waist cincher that is shorter than your torso length may leave you with extra bulges at the bottom of the cincher.
Your Bust Size
A waist cincher belt does not come with a bust cover, choosing whether or not to buy a waist cincher with or without a bust cover should be based on your personal taste and familiarity with cinchers in general. When buying an over-bust waist cincher you would need to take proper bust measurements. Typically, under-bust cinchers are the ideal choice for everyday use and over-bust cinchers are great for wearing strapless outfits.
Fabric Type
Waist cinchers are made out of different kinds of fabrics and the fabric type always affects the style and usability of the cincher. Usually, cinchers made out of satin are the most popular underwear cinchers while those made with taffeta can be worn together with a dress or shirt. Latex cinchers are more durable and mesh cinchers are very comfortable on the skin (ideal for extended use), as well as cotton cinchers. When choosing a waist cincher, choose one that is compatible with your skin type.
How to Wear a Waist Cincher
The Squeem 'Perfect Waist' Contouring Cincher (a waist cincher belt) is a functional and discreet cincher perfect for wearing with sundresses or loose fitted dresses, formal wears and regular tank tops. It is designed to reduce the waistline while moderately lifting the bust region.
Childbirth can be very difficult on the stomach muscles, the 3 in 1 Postpartum Shapewear helps to tighten and flatten the belly after child delivery for better pelvic region recovery so as to easily return original body curves. The postpartum shapewear is a perfect choice for women following childbirth (natural birth and C-sections).
The Venuzor Waist Trainer Belt is made out of neoprene and polyester and is designed to be worn during exercise for well trimmed and toned tummy. It is specifically designed to shape the tummy while defining the waistline and accentuate natural curves and is suitable for weight loss training.
Waist training experts recommend the daily use of waist cinchers as they are comfortable and easy to wear and have been proven as an efficient way to reduce the waistline by as much as three inches almost instantly.
A key advantage of making use of waist cinchers is that this particular body shaping garment provides abdominal support that can be very instrumental in posture maintenance and control. While waist cinchers are made out of elastic and spandex materials that help to create the necessary support they are also a great way to manage eating habits and sitting postures.