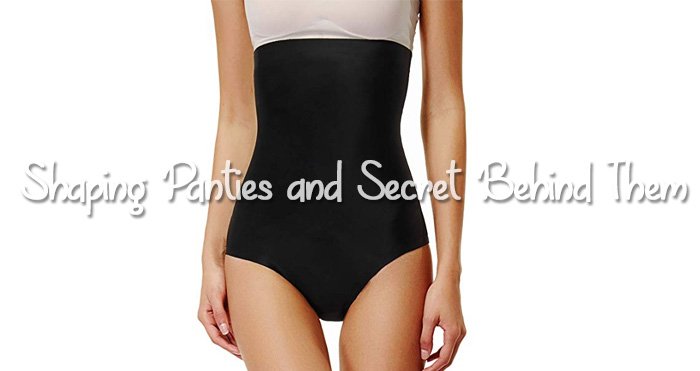 Shapewear is the corset for our generation. Slightly reshaping the body, erasing those lumps and bumps and enhancing our appearance. Shapewear doesn't only boost you confidence but it will shake up your wardrobe.
There is no need for shaking and squeezing to fit into that restrictive shaping bodysuit, all you need is body-shaping panties. The right piece of shapewear will effortlessly disappear under every dress or jeans, plus giving you an instant jolt of confidence without the hassle.
But somewhere, somehow and thankfully the shaping panty has won a place in almost every women's underwear drawer and transformed itself into an everyday essential. Maybe it is because it offers so many benefits beyond simply shaping.
These everyday shaping panties provide the ideal foundation to drape your clothes perfectly on your body. Allowing you to step out of your comfort zone by being more creative with fashion.
The Science Behind Shaping Panties
If you have ever worn shapewear you know it can be every woman's best friend, but how does it work? Where does all our fat suddenly disappear to?
Body shaping panties and other styles of shapewear involves a process of knitting elastic fibres with a more rigid fibre, then they are masterfully cut to contour, shape and give your body an instant nip-tuck. Plus they are designed to help improve your posture, which makes you look slimmer and taller.
Designers place compression fabric in areas that will flatten your muffin top or extra wiggly bits, holding them down. Hence giving you literally a smaller, slimmer and smoother body. So if you were wondering if shapewear could make you look skinnier, yes it can but it is only temporary.
Where does all the fat go? Your fat is extremely soft and can be pushed upwards, downwards or even inwards around your muscles. Basically the shaping panty is just making your flab a little more compact. Well-designed shapewear will often push your excess fat into more appropriate places such as breast, cleavage and booty.
Essential Shaping Panties for Every Women's Underwear Drawer
But we want to help you get the most out of your cute panties, so we have complied some of the different shapewear panty styles available and what to wear them with. So you will have a flawless fit day after day, whether you are wearing skinny jeans or pencil skirts.
Shaping Thong Panties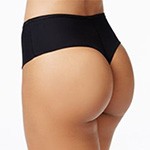 We wear a thong panty because we desire a streamlined look with zero panty lines and the shaping thong panty will not disappoint. Giving you a flawless look by erasing those painful lines and dents from showing up under your clothes, but with the shaping powers you love around the tummy and hips. Comes in a high-waist or normal waistline.
Wear it with a pencil skirt: The pencil skirts requires smooth lines from your midsection down though your thighs, so shaping thong panties just make sense. Plus, pencil skirts tend to flatten your booty, so this panty will give you the lift you need to look sexy.
Shaping Boy Short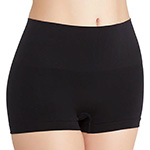 A shaping boy short won't just smooth and shape your entire lower half but it will prevent chafing while wearing a dress or a skirt. We guarantee that you will be a fan of this style of shapewear and wear them at least twice a week. They are great for helping you get the most out of your life and looking fantastic while doing it. Comes in a high or normal waistline.
Wear it with a slip or maxi dress: You want to keep a very free and natural look while wearing a slip or maxi dress, so the shaping boy short is the logical choice. You will feel tucked in and slim, plus if your dress has a touch of sheerness to it, it will look very chic with your boy shorts peeking though.
Butt Shaping Panty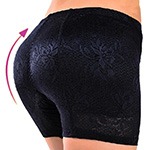 We all need a little pick-me up on occasions and the butt-shaping panty is exactly what you need. Some styles include strategically placed holes and others include extra padding for an instant booty-lift. Plus, it will contour and take inches of your tummy with extra compression where you need it most. Comes in a variety of lengths.
Wear it with skinny jeans: Skinny jeans will flatten your bum and show off any panty lines, so the best choice is a butt-shaping panty. The control thong will prevent your bum from looking like a pancake and give you the perfect amount of tummy control.
Tummy Control Panty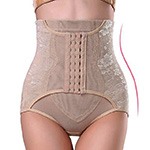 Often when you see shapewear advertisements, you see pictures of ladies in panties, often they are wearing tummy control panties. Providing control right where we need it the most, on our tummy. Look for styles that have double compression and firmer comprehension around the abdomen to give you an instant tummy tuck.
Wear it with a bodycon dress: The style of dress requires the best shaping panties to give you a smooth look though the tummy. Look for styles that have seamless design for complete invisibility under the body-hugging dress.